Live scoring via Golfstat | Tournament information | NCAA Golf home page
Scottsdale, Ariz. – After struggling under favorable scoring conditions Sunday morning at Grayhawk Golf Club, posting a 15-over-par score of 295, Georgia Tech avoided elimination from the NCAA Division I Men's Golf Championship, at the end of the day winding up in a tie for 15th place after three rounds.
Tech and TCU, who each finished 54 holes at 872 (+32), will participate in a sudden-death playoff for the 15th and final spot in the final round of stroke play at 10:30 a.m. EDT Monday. All five players from each team participate, utilizing holes 14 through 18, and play the positions they held at the beginning of the championship (No. 1 players on 18, No. 2 players on 17, etc.). All five scores count.
The winner will join the top 14 teams for the final round of stroke play, after which the individual champion will be crowned, and the top eight teams based on 72-hole score will advance to the match play portion of the championship, which begins Tuesday. The winner also will begin the round 19 strokes behind the eighth-place team.
Even if the Jackets lose the playoff Monday morning, senior Noah Norton will play the final round as an individual. Nine individuals not among the 15 teams advancing will also play the final round Monday.
The Yellow Jackets stood in 21st place, next to last in the clubhouse, and six strokes outside the top 15 when they finished their round Sunday as the afternoon wave was beginning. But the teams around the cutline ahead of Tech began to slide, and the Jackets found themselves alone in 15th place as TCU's players finished on the front nine. In need of a strong finish, the Horned Frogs got one as three players birdied the ninth, their finishing hole, to force the playoff.
Noah Norton led the Jackets in round 3 with a 72 and was Tech's highest finisher.
capitalize as Norton and Bartley Forrester paced Georgia Tech with rounds of 72 and 73 on Sunday.
Starting on the back nine Sunday, Tech recorded four birdies in the first two holes but was never able to gain traction after that, losing nine strokes to par the remaining seven holes. The Jackets continued to falter on the front nine, posting only three birdies among its four counting players.
Norton, a senior from Chico, Calif., played solidly but had only one birdie to offset a pair of bogeys on the front to finish at 2-over-par 72, while Forrester, a sophomore from Gainesville, Ga., carded a pair of bogeys but no birdies coming in on the way to his 73. They were Tech's two highest finishers cumulatively, tying for 34th and 67th, respectively. Norton had a 54-hole total of 215 (+5), and Forrester a 219 (+9).
Juniors Connor Howe (Ogden, Utah) and Ben Smith (Novi, Mich.) counted for the Yellow Jackets Sunday with rounds of 75 (+5), while Tech tossed out the 76 (+6) from freshman Christo Lamprecht (George, South Africa). Smith and Lamprecht finished in a tie for 91st place at 220 (+10), and Howe tied for 120th at 224 (+14).
Notable:  Tech posted eight holes of double-bogey or higher Sunday after recording five combined in rounds 1 and 2 … Conversely, the Jackets had 13 birdies, a high for the three rounds … Leader Oklahoma State led the field in par-4 scoring (+3) by 17 strokes, and the top 14 teams in that category all made the cut; TCU and Tech stood 17th.
Scenes from Sunday's Third Round
Photos by Tim Cowie
TEAM LEADERBOARD – Bidding to run away with the stroke play title for the second straight year, No. 3-seed Oklahoma State shot 6-under-par 274 for the second straight day and opened a six-stroke lead on top-seed Oklahoma, which posted a 2-over-par round of 282. The Cowboys, who had three players under par Sunday, have a championship total of 828 (-12), the only team under par for 54 holes.
The Sooners (841, +1), Arizona State (842, +2), Illinois (844 (+4) and No. 2 seed Florida State (849, +9) round out the top five. Vanderbilt, Wake Forest and North Carolina are tied for sixth place at 853 (+13), followed by Pepperdine (854, +14), Clemson (856, +16), Sam Houston State (858, +18) and Louisville (864, +24).
Arkansas and Texas Tech, both of whom posted 8-over-par rounds of 288 Sunday and found themselves outside the top 15, also drifted back above the cutline as the afternoon rounds played out and tied for 13th place at 868, +28).
INDIVIDUAL LEADERBOARD – Oklahoma State freshman Bo Jin (201, -9) and Clemson senior Turk Pettit (203, -7), who have broken par all three days, remain 1-2 on the individual leaderboard. Parker Gillam of Wake Forest and Quade Cummins of Oklahoma are tied for third place at 205 (-5), while Illinois' Michael Feagle, the Sooners' Jonathan Brightwell and Arizona State's Ryggs Johnston share fifth place at 206 (-4).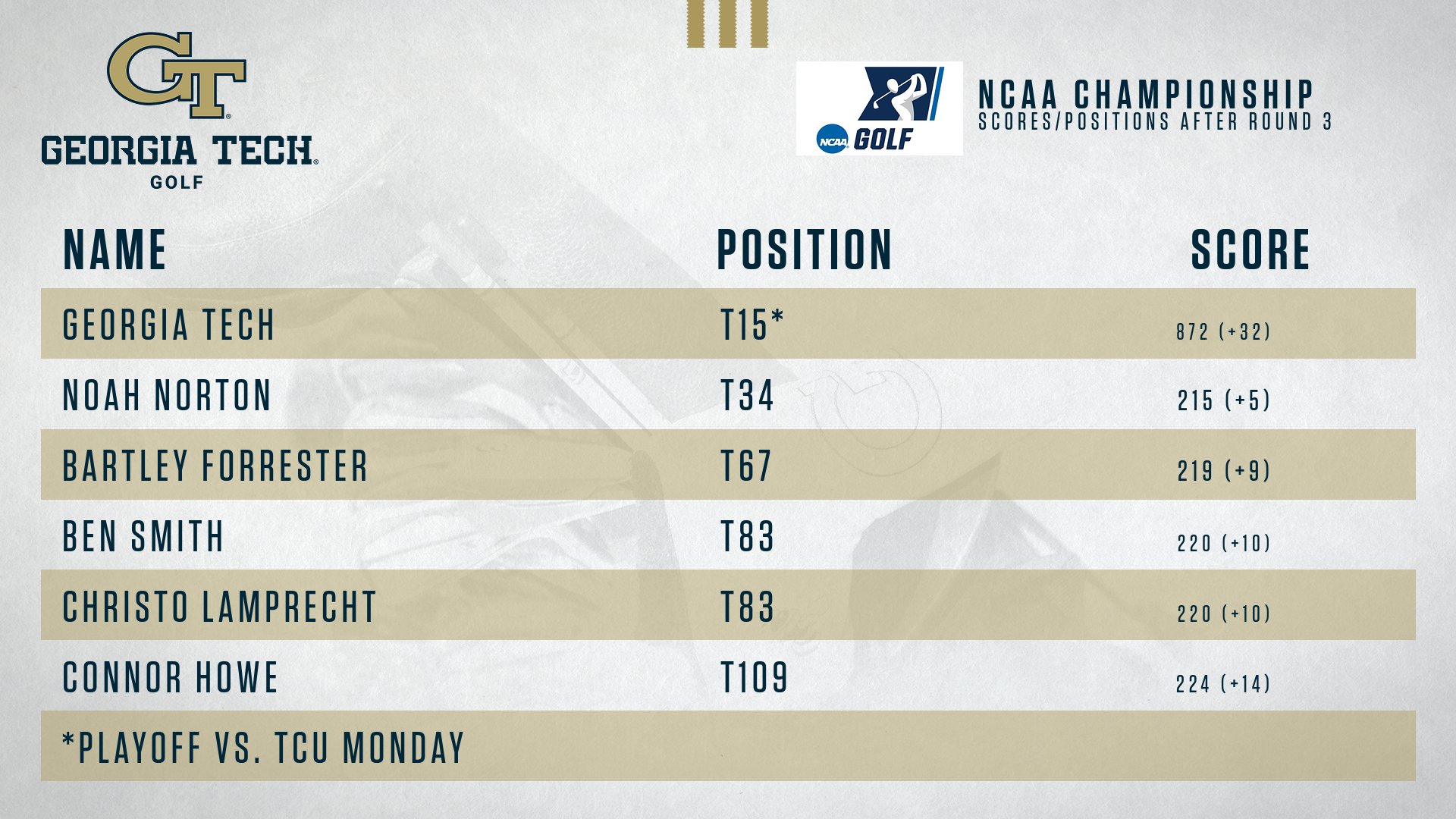 TECH'S NCAA CHAMPIONSHIP HISTORY – Georgia Tech has reached the NCAA Championship finals 29 times since 1985 (30 times in program history), which is tied for fifth most in that time period behind Oklahoma State (35), Arizona State (33), Florida (32) and Texas (32). Tech has posted nine top-8 finishes in the last 15 tries.
The Yellow Jackets have qualified for match play four times since the advent of the stroke-play/match-play format in 2009, finishing third in 2010, second in 2011, second in 2013, fifth in 2014. Tech did not advance out of its regional in 2012, 2016, 2017 or 2018.
CHAMPIONSHIP INFORMATION/FORMAT – Finals play consists of three days of stroke play on Friday, May 28 thru Sunday, May 30 (54 holes), after which the top 15 teams and nine individuals not on an advancing team will be determined. That is followed by a final day of 18 holes of stroke play on Monday, May 31 to determine the top eight teams that will advance to match play as well as the 72-hole individual champion. The team national champion will be determined by a match-play format that will consist of quarterfinals and semifinals conducted on Tuesday, June 1, followed by finals on Wednesday, June 2.
The entire championship is conducted on the Raptor course at Grayhawk Golf Club in Scottsdale, Ariz., which measures 7,289 yards and plays to a par of 70. This is the first of three straight years that the Grayhawk will host the NCAA Championship.
Monday, May 31 – Final round of stroke play competition (tee times based on 54-hole scores)
Tuesday, June 1 – Quarterfinals and semifinals of team match play
Wednesday, June 2 – Championship match to determine team champion
TELEVISION – Golf Channel will air live coverage of the final round of stroke play Monday, May 31 (5-9 p.m. Eastern time), the team quarterfinals (12-3:30 p.m. ET) and semifinals (5-9 p.m. ET) on Tuesday June 2, and the team championship match Wednesday, June 2 (5-9 p.m. ET).
Sophomore Bartley Forrester shot 73 for Tech Sunday to finish second for 54 holes among the Jackets.
Alexander-Tharpe Fund
The Alexander-Tharpe Fund is the fundraising arm of Georgia Tech athletics, providing scholarship, operations and facilities support for Georgia Tech's 400-plus student-athletes. Be a part of developing Georgia Tech's Everyday Champions and helping the Yellow Jackets compete for championships at the highest levels of college athletics by supporting the Support The Swarm Fund, which helps Georgia Tech athletics offset the significant financial challenges associated with Covid-19, and the Annual Athletic Scholarship Fund, which directly provides scholarships for Georgia Tech student-athletes. To learn more about supporting the Yellow Jackets, visit atfund.org. 
ABOUT GEORGIA TECH GOLF
Georgia Tech's golf team is in its 26th year under head coach Bruce Heppler, winning 65 tournaments in his tenure. The Yellow Jackets have won 18 Atlantic Coast Conference Championships, made 29 appearances in the NCAA Championship and been the national runner-up four times. Connect with Georgia Tech Golf on social media by liking their Facebook page, or following on Twitter (@GTGolf) and Instagram. For more information on Tech golf, visit Ramblinwreck.com.