It felt nat­ur­al for Alain Maiore and Se­bas­t­ian Amigore­na to bring in Michel Sade­lain as a co-founder of Mnemo Ther­a­peu­tics. A CAR-T pi­o­neer, Sade­lain had been in­volved as an ad­vi­sor since the ear­ly days — en­thu­si­as­tic about Amigore­na's work in a ge­net­ic knock­out that could en­hance T cell mem­o­ry and a new class of po­ten­tial tar­gets he's dis­cov­ered — and could in­tro­duce some well-known tech­nolo­gies to the tool­box. So they got the ini­tial cash from Sofinno­va Part­ners to plant roots in Paris and New York in ear­ly 2019; with­in a few months, they be­gan to see more clear­ly just what the anti­gen dis­cov­ery plat­form might un­lock.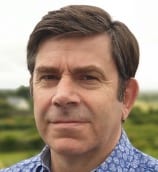 Alain Maiore
"Then Michel said there's some­thing I haven't told you guys," Maiore, a se­r­i­al en­tre­pre­neur and for­mer VC, re­called.
The star Memo­r­i­al Sloan Ket­ter­ing re­searcher and Juno co-founder, as it turned out, had been work­ing on a boost­er strat­e­gy for CAR-T cells — a se­cre­tive tech­nol­o­gy that Mnemo man­aged to wran­gle an ex­clu­sive li­cense for. From there, they went on to re­cruit Is­abelle Riv­ière, MSK's cell ther­a­py man­u­fac­tur­ing lead, and Justin Eyquem, Sade­lain's for­mer post­doc, on board.
The re­sult is a com­pa­ny that hous­es a range of T cell en­gi­neer­ing tech­nolo­gies, in­clud­ing the Suv39h1 knock­out that Amigore­na was ini­tial­ly work­ing on, in ad­di­tion to a tar­get iden­ti­fi­ca­tion en­gine and a plan to keep CMC man­u­fac­tur­ing in-house from ear­ly-stage re­search all the way through com­mer­cial­iza­tion. And it's now got $90 mil­lion (€75 mil­lion) to kick off a two-year march to­ward the clin­ic.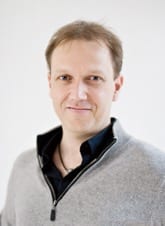 François Gaudet
"I would say each one of these tech­nolo­gies could tech­ni­cal­ly be an in­de­pen­dent com­pa­ny," said CSO François Gaudet. "Some of them I think have the chance to be trans­for­ma­tion­al tech­nolo­gies. But when you mix them to­geth­er, you can get even more."
Test­ing these tools one by one and teas­ing out how they add to or com­ple­ment each oth­er is cru­cial con­sid­er­ing Mnemo's ul­ti­mate goal. The is­sues with the first gen­er­a­tion of CAR-Ts are well doc­u­ment­ed: They on­ly work for liq­uid tu­mors but not sol­id ones, the man­u­fac­tur­ing process is ex­pen­sive and cum­ber­some, and new safe­ty con­cerns are al­ready emerg­ing.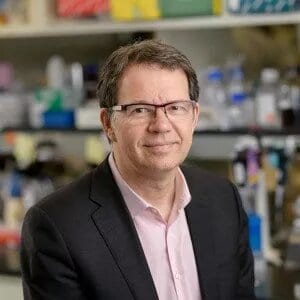 Michel Sade­lain
But in­stead of stand­ing by one ap­proach, the biotech wants to stay ag­nos­tic about the modal­i­ty and be ready to lend a crit­i­cal hand wher­ev­er the break­throughs come. No sin­gle holy grail will fix all the prob­lems, Maiore sug­gest­ed. De­pend­ing on the pa­tient pro­file and in­di­ca­tion, au­tol­o­gous, al­lo­gene­ic and in vi­vo cell ther­a­pies could all have their place.
That's why the CEO is fair­ly cer­tain Mnemo will con­duct its first clin­i­cal tri­al in sol­id tu­mors with an au­tol­o­gous CAR-T di­rect­ed at a known tar­get, while start­ing off the hema­to­log­ic work with an al­lo­gene­ic con­struct. Every six months, they will re­view the da­ta and pre­pare to repri­or­i­tize the port­fo­lio based on the re­sults.
"The on­ly way to se­lect your tar­get is to try it," he said. "And so we want to be in a po­si­tion to try as many tar­gets as pos­si­ble, so that even­tu­al­ly we are able to pick the best one to get in­to the clin­ic."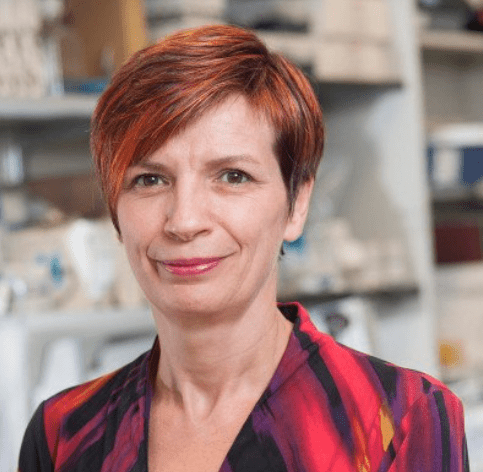 Is­abelle Riv­ière
And they are cer­tain they will have their hands full with epi­ge­net­ic anti­gens, or E-anti­gens, which are not your clas­si­cal neoanti­gens, Maiore not­ed, but com­plex­es or pro­teins that arise from dys­reg­u­la­tion in epi­ge­net­ic mech­a­nisms, re­sult­ing in the trans­la­tion of el­e­ments that shouldn't be trans­lat­ed in nor­mal cells. Not on­ly are they im­muno­genic, Amigore­na's team at the In­sti­tut Curie found these anti­gens were al­so re­cur­rent and high­ly spe­cif­ic to can­cer.
It all makes for a cov­et­ed head­start in one of the most-watched races across bio­phar­ma, as in­vestors lav­ish on a di­verse suite of ways to tin­ker im­mune cells such that they can un­leash an at­tack on can­cer. Cas­din Cap­i­tal joined Sofinno­va in lead­ing the round; Red­mile, Emer­son Col­lec­tive and Alexan­dria Ven­ture In­vest­ments chipped in.
Yet the 28-strong team at Mnemo is al­so well aware of the chal­lenges that re­main.
Most re­cent­ly, Carl June, Oz Azam and their team at Tmu­ni­ty sound­ed the alarm on lethal cas­es of neu­ro­tox­i­c­i­ty that de­railed their clin­i­cal tri­al for a prostate can­cer CAR-T — a move Maiore said the field should be "grate­ful" for.
He is con­vinced there will be so­lu­tions. Mnemo's an­swer to those safe­ty ques­tions will be a mix of an­i­mal mod­els that are ul­tra sen­si­tive to tox­i­c­i­ty, more con­ser­v­a­tive clin­i­cal de­signs and tech­no­log­i­cal tweaks.
"We are do­ing a lot of think­ing and we've been qui­et since day 1 be­cause we re­al­ly want­ed to think this through," he said. "And look­ing for­ward, we will let the sci­ence do the talk­ing."