THE FLATS – Georgia Tech baseball's true freshman catcher Kevin Parada (Pasadena, Calif./Loyola) continues to be lauded as one of the country's top backstops, being named to the ABCA/Rawlings All-Southeast Region Second Team, the association announced Wednesday.
The Yellow Jackets' primary catcher a true freshman, making 51 starts, including 48 behind the dish, Parada led the ACC the entire first half of the season before cooling slightly to finish top 20 with a team-best .318. The California native is the first freshman to lead Georgia Tech in hitting since Matt Murton in 2001.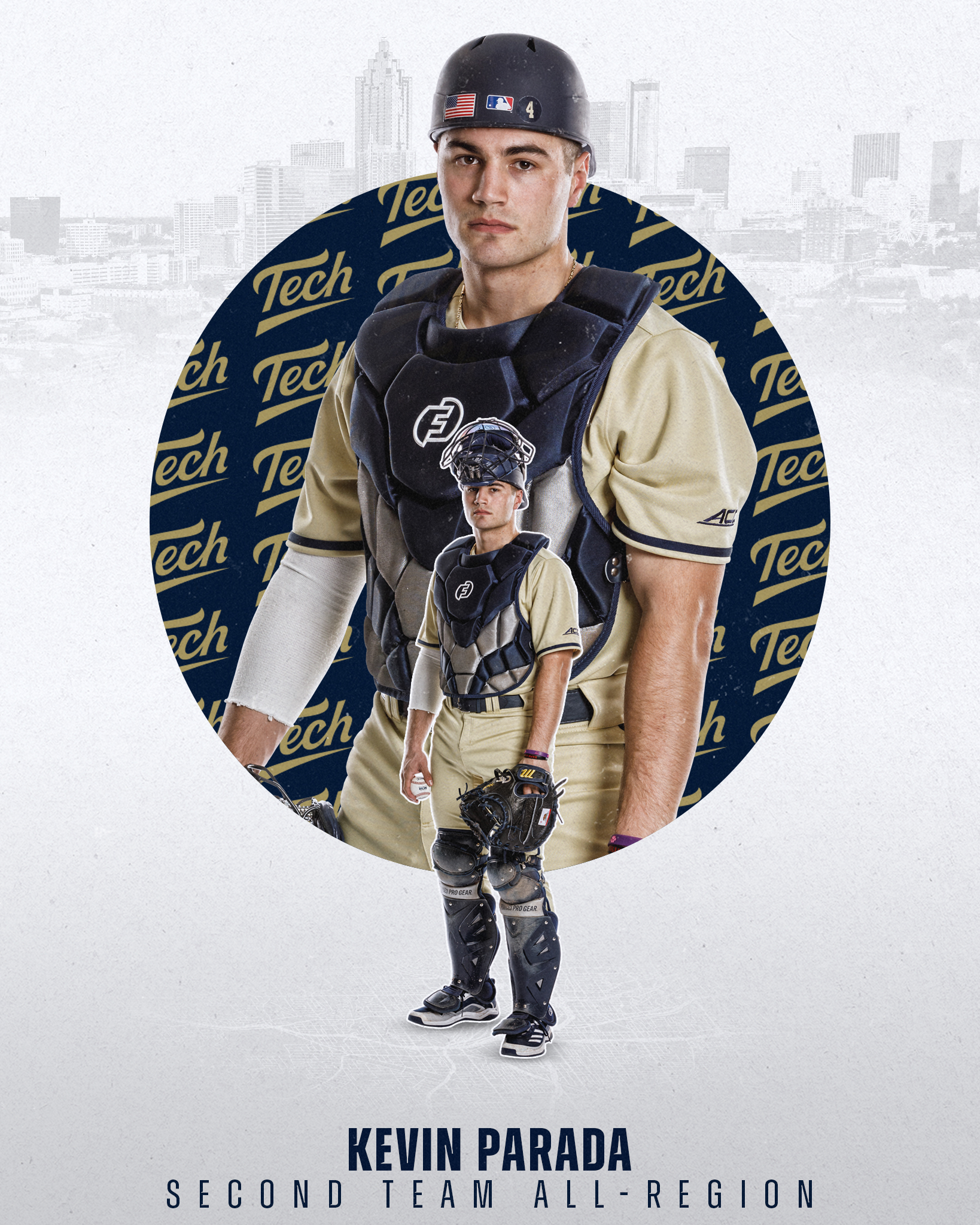 Parada also led the ACC with 20 doubles on the season, and recorded four four-hit games on the season – only two other ACC players had games three.
Playing against one of the toughest conferences in the country, the California native hasn't shrunk to the competition, also tops the rankings in ACC-only statistics:
Hits: 50 – No. 2 in ACC
Doubles: 14 – No. 2
Triples: 2 – No. 4
Batting Average: .352 – No. 8
Throughout the season, the true freshman catcher was recognized nationally, receiving ACC Player of the Week honors to start March as well as twice being named the Midseason Freshman of the Year by Perfect Game and D1Baseball. He was also one of just five freshmen to be named to the Buster Posey Award watch list as well as the Golden Spikes midseason watch list.
Parada was also named a freshman All-American by Collegiate Baseball, as well as third-team all-ACC and the ACC's all-freshman team.
Alexander-Tharpe Fund
The Alexander-Tharpe Fund is the fundraising arm of Georgia Tech athletics, providing scholarship, operations and facilities support for Georgia Tech's 400-plus student-athletes. Be a part of developing Georgia Tech's Everyday Champions and helping the Yellow Jackets compete for championships at the highest levels of college athletics by supporting the Support The Swarm Fund, which helps Georgia Tech athletics offset the significant financial challenges associated with Covid-19, and the Annual Athletic Scholarship Fund, which directly provides scholarships for Georgia Tech student-athletes. To learn more about supporting the Yellow Jackets, visit atfund.org.   
For the latest information on the Georgia Tech baseball team, follow us on Twitter (@GTBaseball), Facebook, Instagram (@gt_baseball) or visit us at www.ramblinwreck.com.