GREENSBORO, N.C. – Georgia Tech softball's Emma Kauf has been named to the 2021 All-ACC Academic Softball Team, the Atlantic Coast Conference announced on Monday.
The recognition marks the first time Kauf, a biology major, has been honored on an All-ACC Academic Softball Team. The Yellow Jacket catcher has been consistent on and off the diamond as she boasts well above a 3.5 overall GPA, has been named to three Dean's Lists and has garnered Faculty Honors.
Each student-athlete named to the All-ACC Academic Softball Team has maintained a career GPA of 3.0 or higher and posted a 3.0 GPA or higher in the most recent semester. On top of academic success, athletic achievements were factored into the selection process as each of the team's members were named either an All-American, All-Region honoree, All-ACC, an ACC Championship All-Tournament team member or ACC Player or Pitcher of the Week.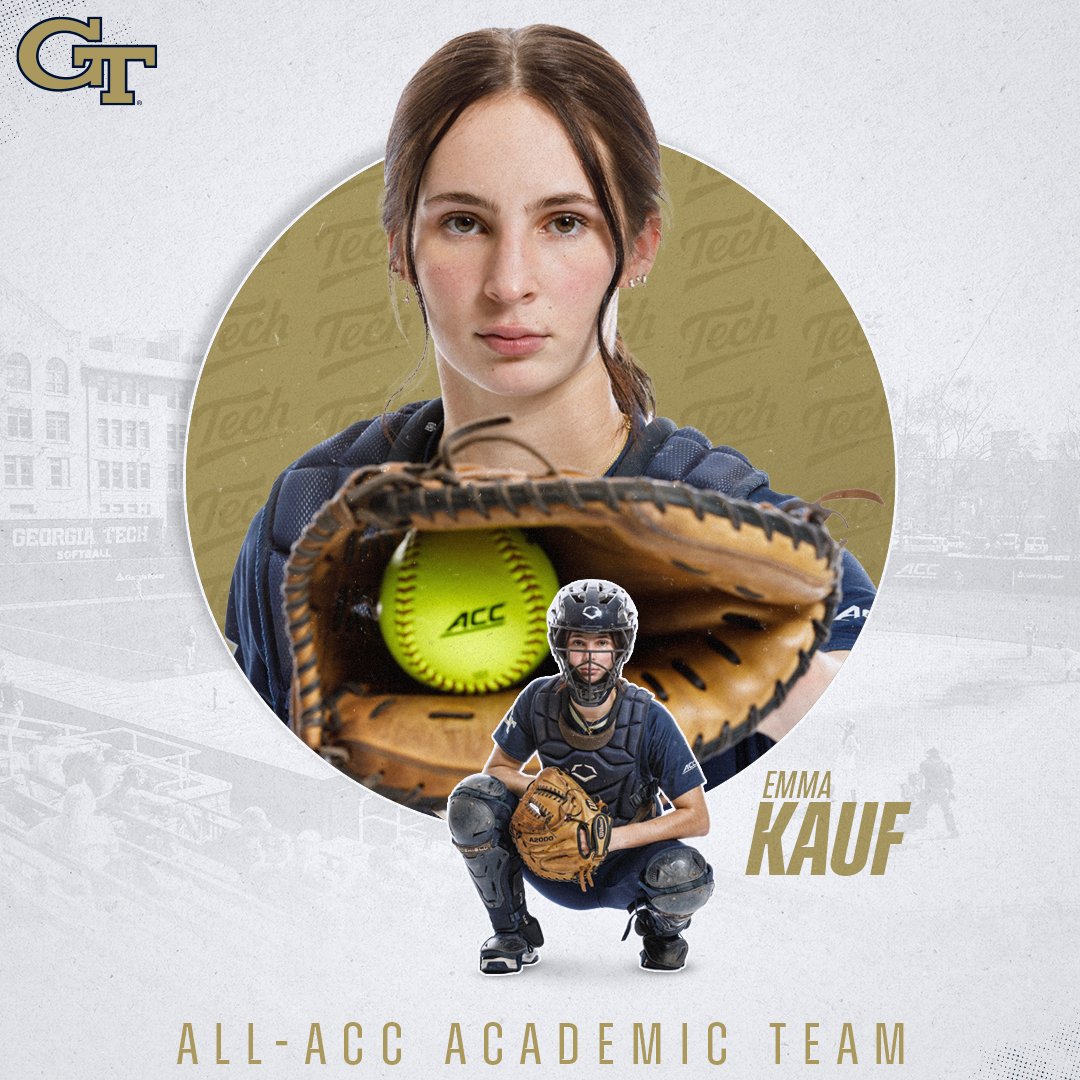 Kauf most recently competed alongside seven NFCA All-Americans in a pair of exhibition doubleheaders against Team USA following a decorated season for Tech. The Lincoln, Neb. native became the first Yellow Jacket to be named both All-ACC First Team and to the ACC All-Freshman Team in the same year this season. She finished second on the team in batting average (.345), hits (48), doubles (7), homeruns (10), RBI (33), total bases (89) and slugging percentage (.640). The Jacket backstop was also named ACC Player of the Week (2/16) for her performance in the season-opening Buzz Classic.
Georgia Tech looks toward the 2022 season after concluding 2021 at 20-26 overall and 11-19 in ACC play. The Yellow Jackets were edged in the Quarterfinals of the 2021 ACC Softball Championship following a 6-0 win over Syracuse in the First Round, including a no-hitter tossed by second-year freshman Blake Neleman.
Alexander-Tharpe Fund
The Alexander-Tharpe Fund is the fundraising arm of Georgia Tech athletics, providing scholarship, operations and facilities support for Georgia Tech's 400-plus student-athletes. Be a part of developing Georgia Tech's Everyday Champions and helping the Yellow Jackets compete for championships at the highest levels of college athletics by supporting the A-T Fund's Annual Athletic Scholarship Fund, which directly provides scholarships for Georgia Tech student-athletes, and the Support The Swarm Fund, created to give fans an opportunity to help Georgia Tech athletics maintain its recent momentum through the financial challenges of the Covid-19 pandemic! To learn more about supporting the Yellow Jackets, visit atfund.org.  
For the latest information on the Georgia Tech Yellow Jackets, follow us on Twitter (@GTAthletics), Facebook, Instagram or visit us at www.ramblinwreck.com.