BizBash's newest column offers a monthly check-in on all things event tech, from new virtual platforms to social distancing-focused tools to software that will make your job easier. Got a tip? Get in touch!
In Case You Missed It
At BizBash, we recently explored how robots can help bring back live events safely. Looking for some virtual or hybrid event inspiration? We took a deep dive into Avalara's jaw-dropping, 18-neighborhood virtual city, as well as ESSENCE's recent hybrid festival, which included a new virtual marketplace that showcased Black-owned businesses.
We also rounded up 15 new event industry job roles that emerged during the pandemic, ranging from technical production managers to virtual music coordinators to motion graphic designers and other tech-forward roles. 
More Event Technology We're Excited About This Month
For a virtual event that feels like a video game
A new collaboration between Canadian experiential design agency Youville Haussmann Park and creative technology studio Alice & Smith is Metavenue, a digital platform that mixes AR experiences with a brand's mission and messaging for both virtual and in-person events. Integrating Microsoft, Unreal and Google AI technologies, the customizable platform offers a 4D, 360-degree immersive environment that, like video games, can operate in the real world, a fantasy world or both.
Rabih Sebaaly, chief growth officer at A&S, said, "Based on our extensive knowledge of game theory, transmedia experience design and fan psyche, we brought together the best of live events and video games to create a truly human-centric experience platform." 
To facilitate virtual networking that feels like it's IRL
Virtual event platform Shindig recently debuted its virtual lobby functionality, which allows guests to mingle, network and conduct private business. The technology is designed for both virtual and hybrid events, allowing free-form interactions like those at an in-person event, where attendees can see who is talking to whom and who is free for a conversation. As an added bonus for hybrid events, the virtual lobby offers a venue for in-person guests to engage with online participants via their mobile phones.
"Working the room, running into an old friend, being casually introduced to a mutual contact or opportunistically pulling someone aside who has a free moment are the types of in-person networking opportunities that Shindig now creates online," explained CEO and founder Steve Gottlieb. "We have brought all the spontaneity and serendipity of in-person networking to the virtual experience."
To smoothly manage all aspects of an event—regardless of your experience level
Meeting and event management technology provider e-DestinAccess has launched DestinDIY, a new end-to-end solution for planners of all experience levels. The tool allows planners to manage all aspects of meetings and events of any size, offering an intuitive digital tool that can manage bookings while also capturing revenue from shared commissions. The user-friendly platform allows for electronic proposals, online registration, transportation scheduling, financial forecasting and more; it can also fully integrate multiple services like HotelPlanner, Flyus, Carey International, Tiqets and Quickbooks.
For an interactive display screen—that you don't need to constantly be sanitizing
Trade show technology provider Reality Engineering recently launched RE:nvent Touchless, a proprietary solution that uses a sensor-mounted display to provide navigation and control in a touchless format—meaning there's no need to sanitize the screen after every use. By using simple hand gestures, attendees can request literature, take a survey, enter challenges, scan their own badges and more, while the RE:nvent platform captures the metrics into a single dashboard. "Our new RE:nvent Touchless solution joins the power of interactivity and data collection with the peace of mind you need on today's show floor," said Jon Jackson, president of Reality Engineering.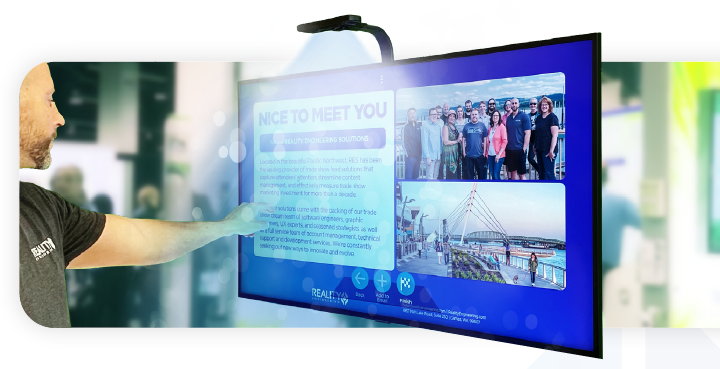 Photo: Courtesy of Reality Engineering
To maximize profitability for your small event business
Curate—a modern sales and operations platform for florists, caterers and other creative small businesses—recently announced a $1.25 million seed round led by Chicago-based OCA Ventures, with participation by Square co-founder Jim McKelvey, Cultivation Capital and Stout Street Capital. Founded by St. Louis-based florist Ryan O'Neil, Curate has seen revenues grow 700x in the last year; the platform makes it easy for small businesses to instantly create proposals, process payments, manage supply chains, and optimize communication with customers and suppliers. "We expect a massive economic boom for the events industry as people emerge from the pandemic, but small businesses will need the right technology to capitalize on the demand," said O'Neil. "With this funding round, we are perfectly positioned to help our customers grow rapidly and profitably."
To host a global virtual conference
BeyondLive is a versatile, scalable virtual event platform that offers immersive 3D environments, interactive experiences and an intuitive user interface. The brainchild of full-service event company ProGlobalEvents, the platform recently hosted a global user conference for printing company EFI on the platform, featuring 450 live sessions over eight days along with personalized agendas for over 1,000 attendees, four different language filters, a general sessions theater and several breakout sessions, and a large expo hall. (Click here to read a case study.) The project was recently selected as a finalist in the World Exhibition Stand Awards in their digital events category, with winners to be announced later this year.
To easily design and print badges for in-person events
ID card solutions provider Idesco Corp. has launched a new online tool that allows event managers to easily design oversized event badges, with the option to add embedded tech like RFID or NFC. Customers can simply upload their badge artwork and receive a proof within 24 hours, helping speed up the printing process at a live event; printers can also be bought or rented for events. "With the return of concerts, conferences, trade shows and sporting events comes the need for added security and clear identification, notes Idesco president Andrew Schonzeit. "Idesco is here ready to help our customers get the right solutions for all their events."
To manage complex video content at virtual events
Mediasite recently launched Mediasite 8, a new tool that allows for video creation and usage worldwide for virtual and hybrid events. New offerings include more efficient video storage, smaller file sizes, accessibility updates, new integrations with video conferencing systems and an enhanced user experience with a new player and editor. "Over the past year, video communications adoption has taken an unprecedented leap forward. Video is now pervasive, accessible and convenient to everyone worldwide daily," said Joe Mozden Jr., CEO of Sonic Foundry, the maker of Mediasite. "The latest release of Mediasite … is the culmination of our efforts to open our platform further to content coming in during the pandemic, expand interoperability with third-party platforms and foster customization for our users."