THE FLATS – Georgia Tech football's Nov. 6 game at Miami (Fla.) will kick off at 12:30 p.m. and air regionally on the Atlantic Coast Conference's Regional Sports Network (Bally Sports South or Bally Sports Southeast in the Atlanta metro area), the ACC and its television partners announced on Monday.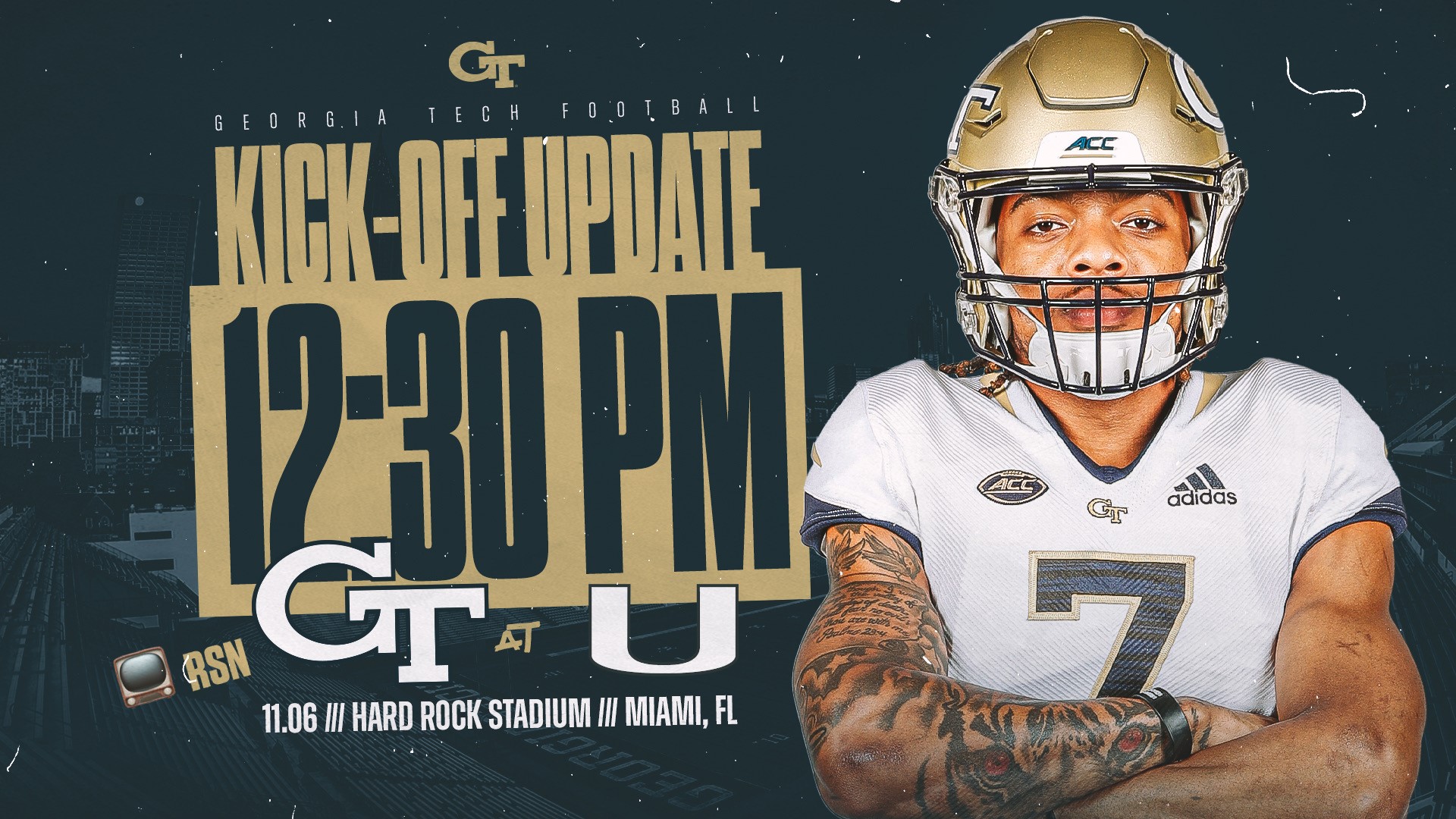 In its last trip to Miami in 2019, Georgia Tech defeated the Hurricanes, 28-21 in overtime, to give the Yellow Jackets their first-ever win over the Hurricanes in six games at Hard Rock Stadium.
Before visiting Miami, Georgia Tech (3-4, 2-3 ACC) hosts Virginia Tech on Saturday for homecoming at Bobby Dodd Stadium. Kickoff is set for noon and will also be televised on ACC RSN (Bally Sports Southeast in Georgia). Tickets for the homecoming contest, which will include a celebration of 30th anniversary of the Yellow Jackets' 1990 national championship (delayed one year due to Covid-19), are still available and can be purchased online by clicking HERE.
2021 GEORGIA TECH FOOTBALL TICKETS
Stinger Mobile Passes, 3-Game Mini-Packs and single-game tickets for Georgia Tech's 2021 home football schedule are all still on sale. Stinger Mobile Passes and 3-Game Mini-Packs are the only way to guarantee the best seats for the Yellow Jackets' remaining home games this fall, including the return of "Clean, Old-Fashioned Hate" when archrival Georgia visits Bobby Dodd Stadium on Nov. 27. Click HERE for full information on 2021 Georgia Tech football tickets and to purchase tickets online.
Alexander-Tharpe Fund
The Alexander-Tharpe Fund is the fundraising arm of Georgia Tech athletics, providing scholarship, operations and facilities support for Georgia Tech's 400-plus student-athletes. Be a part of developing Georgia Tech's Everyday Champions and helping the Yellow Jackets compete for championships at the highest levels of college athletics by supporting the Annual Athletic Scholarship Fund, which directly provides scholarships for Georgia Tech student-athletes. To learn more about supporting the Yellow Jackets, visit atfund.org.   
For the latest information on the Georgia Tech Yellow Jackets, follow us on Twitter (@GTAthletics), Facebook, Instagram or visit us at www.ramblinwreck.com.